Son Excellence Mgr
Olivier-Elzéar Mathieu
Premier archevêque de l'archidiocèse de Regina
1911-1929
Mgr Olivier-Elzéar Mathieu est né dans la Paroisse Saint-Roch de Québec, le 24 décembre 1853. Après ses études à Québec, Olivier-Elzéar Mathieu fut ordonné prêtre le 2 juin 1878. Sa carrière s'est passée entièrement à Québec et à Régina. De 1878 à 1911, il fut au séminaire de Québec comme professeur de philosophie, préfet des études, directeur des élèves, supérieur du séminaire et recteur de l'Université de Laval. De 1882 à 1883, il alla étudier à Rome. Le 4 mars 1910, le diocèse de Régina fut détaché de celui de Saint-Boniface. L'année suivante, le 21 juillet 1911, Mgr Mathieu fut élu premier évêque de Régina. Son diocèse ayant été élevé à la dignité de siège métropolitain, le 4 décembre 1915, il fut promu au titre d'archevêque. Il est décédé à Régina, le 26 octobre 1929, à l'âge de 75 ans.
Mgr Mathieu, tout en s'assurant le respect et l'estime des Anglo-Canadiens, a rendu aux Franco-Canadiens de l'Ouest d'énormes services. Il fut un des fondateurs du Collège Catholique de Gravelbourg qui maintenant s'appelle le Collège Mathieu.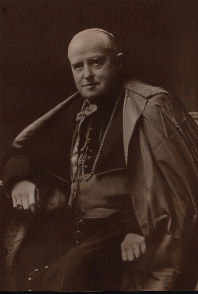 His Excellency Archbishop Olivier-Elzéar Mathieu
Second Archbishop of the Regina Archdiocese
1911-1929
Archbishop Olivier-Elzéar Mathieu was born in the Saint-Roch Parish in Québec City on December 24, 1953. He was ordained a priest on June 2, 1878, after completing his studies in Québec City. Archbishop Mathieu spent the first years of his career at the Major Seminary in Québec from 1878 to 1911 as a Professor of Philosophy, Director of Studies, Director of Students, Superior of the Seminary and Rector of Laval University. From 1882 to 1883, he decided to study in Rome. On March 4, 1910, a new Diocese was created leaving Regina detached from the Saint Boniface Archdiocese. One year later, on July 21, 1911, he was elected first Bishop of the Regina Diocese. On December 9, 1915, the Regina Diocese was raised to the dignity of the Metropolitan See and His Grace Olivier-Elzéar Mathieu was promoted to Archbishop. He passed away on October 26, 1929, in Regina at the age of 75.
Always assured of the respect and esteem of his Anglo-Canadians, Archbishop Mathieu was able to render the most distinguished service to his Western Franco-Canadians. Archbishop Olivier-Elzéar Mathieu was also a known founder of Collège Mathieu.